0

SQFT OF OYSTER BEDS PLANTED
Join the Toadfish Put 'Em Back™ movement and help us rebuild oyster reefs. Oysters clean coastal waters at incredible rates and provide habitat for hundreds of marine species.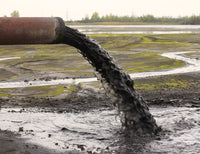 WATER QUALITY
Water quality is the #1 issue of our time. The number of people living on the coast has increased by 40% in the last 30 years and shows no signs of slowing down.
With the population increase, the amount of toxic run off from coastal cities and towns has increased 10-fold, placing an unprecedented amount of strain on coastal resources.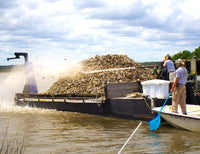 TIME TO REBUILD
Oyster reefs were once a dominant structural and ecological force around the globe. Today it is estimated that more than 99% of the global habitat has been lost.

Working with non-profit beneficiaries on every US Coastline, Toadfish Conservation Coalition is raising funds to rebuild reefs the world depends on.
Learn more
DID YOU KNOW?

400+
oceanic dead zones
exist and double
every decade

80%
of wastewater flows
back into our waters
without being treated

10%
of beaches fail to meet benchmark for safe swimming water